The Bikes
1996/2000 Honda rs125r
It's called "Boris". Purchased used from Peter Hofmann (his backup bike for '00), it arrived in Boston around November of 2000. It sat patiently (painfully?) in the basement until April of 2001, where it was run at NHIS in Loudon NH for the first time. It weighs in at 160lbs (dry), and probably puts out about 40hp in the 9k-12.5k rpm range. It has had a few upgrades since its' arrival, including imporoved suspension, magnesium wheels, a semi-automatic upshifter, billet clutch basket, and some other secret bits!! It also now has a year 2000 engine in it.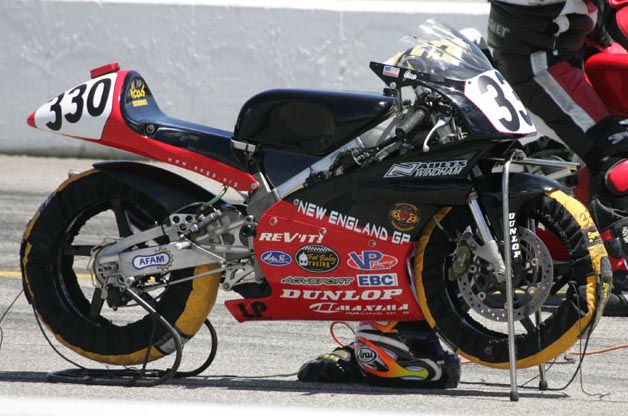 1996 Yamaha TZ 250
It's called "Natasha". It's a 1996 with all sorts of performance upgrades, purchased from Steve Scott after his 2003 AMA 250GP assault. This bike is stupid fast. Aftermarket pipes, B-kitted cylinders, overbored carbs, airboxes, and Marchesini wheels. It's a rocket. This is the bike that will most likely put me in the hospital. Pretty though, isn't it?