125gp Tech Page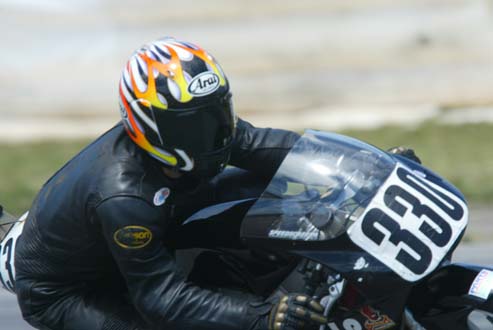 "Pure racing machine R125/250 have good potential in the circuit. But if customer don't pay attention to maintenance so much, potential will be much down. Therefore, frequently it would be better to check and replace or overhaul the parts by our technical manual to keep this performance" -HRC 2001 Supplementary Manual
This page is a work in progress...
Shift-left click here to download my tuning and lap/race tracking template. MS Excel format (24k).
HRC and Yamaha both put out Supplementary Manuals, which contain info that is not found in the OEM manual. Here are a set of zip files that contain jpg versions of what was made available, which cover both 125s and 250s (shift-left click the year to download):
Honda also set up an official technical web page with some useful information, found here.
Here's a set of tuning charts for the Honda rs125 (non-powerjet carb) in three parts: The original (322k) looks like a pile of spaghetti, so I did my best translation/re-routing job to make it into something useable: Part 1(rider) (221k) Part 2 (tuner A) (88k), Part 3 (tuner B) (63k).
Here's what happens to your frame when you crash, and the front end of your bike gets run over by a 400+ lb Ducati/Husquavarna hybrid aptly nicknamed "Hercules":
Top/left of frame casting (at steering head)
The same crack, continued on the bottom/inside of casting
So you want to (re)build a Honda rs125 from the ground up? Here's my simple 7 step program that even Richard Simmons could follow. If you have all the tools ready and everything organized, it should only take you a couple hours (try that with a 600 class machine!):
Start with the frame, and a high-tech plastic bucket
Add on some rearsets (with pegs and rear brake assembly)
Throw in a swingarm and a rear shock
Stir in a front end (forks, tree, clip-ons with the necessary accoutrements...)
Install one (1) engine
Add in the electronics, a radiator, exhaust, some wheels and a chain...
Strap on the fairings and gas tank.. and voila!
WINTER SUCKS!
OK.. so you're going completely nuts over the long cold winter. What's a gp racer to do? Well.. aside from moving south or buying a snowmobile to race, it usually means that you work on your racebike in your living room while watching reruns of The Doctor flipping off The Roman Emperor at 140mph in a sweeping right-hander. Here's a high level overview of the spa-like treatment that Boris gets while the white stuff falls:
Engine: After the last race, drain all the oil and coolant, then make arrangements to put a new crank in. These days, I'm doing the bottom end rebuilds myself, but there are quite a few reputable engine builders out there to send your engine to. Make sure to wait until March to send it off for April racing in order to annoy your mechanic <G>.
Bearings: Most of the frame bearings get swapped out. You should have 4 wheel bearings, 6 rear suspension linkage bearings, 2 steering head bearings and 1 rear wheel spacer bearing (the latter you changed a few times during the season already, right...? RIGHT...?). When buying bearings, always buy extra, and never the get cheap-o ones.. always the best, like NTN. The 4 wheel, 2 steering head, 2 right side swingarm pivot and 1 rear wheel spacer bearings are all standard sizes. The left side swingarm pivot and 3 suspension linkage bearings are Honda OEM parts (but not HRC specific). Bearings can be frustrating. I usually (er.. always) mash the hell out of at least one at some point along the line. It helps a lot to pre-grease and pre-freeze the virgin bearing, then pre-grease and heat the housing profusely with a torch to insure smooth installation (what am I saying.. bearings never go without a fight!). Removing them is fun cuz you can bash the hell out of them. Installing them sucks cuz you can't bash the hell out of them!
Suspension: Time to get your forks or rear shock rebuilt? Perhaps revalved? It's gotta be time for new slider bushings, no? At the very least, you'll want to change out the fork oil.
Fluids: The brake fluids get flushed (not until the first race weekend is looming over you though).
Order Parts: Winter is a good time to spread out your wealth of spare parts on the kitchen floor.. and put together an order to replenish what you've gone through. Expect to receive a box of parts in the mail that looks far too small for the money you just spent <G>. Order stuff like pistons and clutch plates, reeds and gaskets, etc... plus any crash spares you actually employed ;>
Anal Retentive Stuff: Winter is also a great time to do the stuff you never have time for during the season, like dress pistons, and bag individual top end kits, etc. At the very least, you can set yourself up to look organized for the first weekend ;). Oh.. and it's a good time to actually clean the bike. Go through it as you clean, and make sure all the bits are still firmly attached.
Upgrades: Given that winter sucks so much for a gp racer, it's a good to ease the suffering by spending lots of money buying new fairings, and adding options like magnesium rims, an airbox, perhaps a thermostat (if nothing else, it makes the bike look so much cooler as you sit on it in front of the TV watching the Daytona 200). Then again, maybe you did all that last year.. At the very least, it's time for a new paint job, right?
Problems to date with the 125 (not including crash damage):
| | | |
| --- | --- | --- |
| Symptom | Problem | Resolution |
| | | |
| Bike was stumbling a LOT. Leaning out the jetting significantly didn't help at all. Plug was always soaked with oil. | The carb choke lever wasn't sealing properly, allowing a lot of extra fuel into the mix, which caused the bike to run very rich. | Sealed off the choke circuit permanently with radiator repair putty. |
| Bike didn't start well (it would bog before it revved to life), had little to no power off the line, and was stumbling and stalling randomly. | Previous engine assembler used incorrect case sealant. Engine was leaking air, which caused the bike to run rich. The bottom end was full of muck as well (joy!). | Engine assembled properly (go figure!). |
| Electronic shifter (Battle) wouldn't work after installation. | Black box was mounted too close to CDI, which caused it to malfunction (electronic interference?). | Black box remounted away from the CDI. |
| Bike was losing water from radiator into cylinder head, engine was running really poorly at high revs under load. | Water was leaking into the crank from port that goes from pump to cylinder sleeve, through the case seam. | Cases split, gasket surfaces cleaned, then reassembled with new case sealant (and new seals/gaskets) |
| Electronic shifter (Battle) stopped working. | Shift linkage switch broke. | Installed new shift linkage switch. |
| Bike sounded really loud, lost power. | Exhaust pipe cracked/broke between expansion chamber and silencer | Pipe welded and reinforced. |
| | Welds connecting the swingarm struts to the pivot cast section cracked on *both* sides | Swingarm was removed, all bearings and parts stripped, swingarm was put in a jig (VERY important!) and the beads were rewelded by Kevin Murray of MCE. |
| | Rear cast section of the frame was twisted, causing the swingarm to splay outward over time. | Frame straightened by Kevin Murray of MCE. |
| Bike wouldn't get good starts, and wouldn't rev out in 6th gear. | A clutch spring retaining bolt broke, and the spring/bolt head were rubbing (eating away) the clutch cover. | Oil drained, clutch and transmission removed to clean out shredded metal. Reassembled, and bolt was replaced. |
| Countersprocket came off twice in one day. | Threads in countershaft where sprocket bolt goes in were getting stripped and crossed. | Replaced countershaft, spring washer and bolt (also replaced gear holder circlips). |
| Front forks would not fully compress under braking. | Compression valving retention nut came off inside fork cartridge. | Replaced nut, and peened over to keep in place. |